*You can listen to our talk! Click the player above.
Hi everyone, our radio show is renewed today! Isao Tokuhashi san, a main host of My Eyes Tokyo, who's been talking to you since last April, is still here with us.
Let us introduce ourselves. We're Irene Kuroda (Left) and Maya Fujimura (Right), the ECC's English instructors who operate a classroom in Tsukishima (ECC Junior Tsukishima Daiichi Shougakkou Mae Classroom). Tokuhashi san met us on referral from his friend and got on famously with each other because what Tokuhashi san wanted to do and what we wanted to do were almost the same. So we joined his project… but we didn't imagine that we would join his radio show!!!… But anyway, we would like to provide useful info regarding our daily lives in Tokyo or Japan.
Today we talked about mainly our mission and vision. After 3.11 earthquake, many foreigners were worried about many things such as aftershocks, radiations, vegetables, water etc. We think that it happens because of lack of information. In Japan, most of media report in Japanese and a few foreign presses transmit what's happening to foreigners in their languages after struggling language barrier. But some of them write articles by guess so people get worried unnecessarily.
That's when My Eyes Tokyo really comes into play. Both of us are bilingual or trilingual so we can translate info provided in Japanese into English (and even Tagalog). Now we have Facebook and Twitter account so you can check info regarding your daily lives in English. Of course this program will be very useful for you because this is aired in English and Japanese.
Also don't forget our new website which will launch in May. It's an online open forum which you can write down your questions or anything related to Tokyo or Japan in 10 languages. For more details, listen to the podcast below.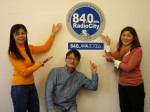 Useful info for Everybody, we are always close to you. Thank you very much for your listening!
<Tonight's info>
1. Dial 171.
It's required when communication traffic to the devastated areas increases and it is difficult to get through.
For more info, visit http://www.ntt-east.co.jp/saigai_e/voice171/
2. Free entrance to Hamarikyu Garden for Chuo-ku residents.
Only from April 2, 2011 to May 6, 2011. Take advantage of this opportunity to see the famous, beautiful cherry blossoms and flowers in Hamarikyu!
Go to http://www.city.chuo.lg.jp/koho/210415/08_04/index.html (*Japanese), print out this page, cut off the central portion (dotted square), divide it into pieces (one apiece), fill out a form and bring it to the garden window.
*People who visit the garden by water-bus are exempt.